PRODUCTS | METAL BELLOWS
Single Ply Metal Bellows
Single-ply bellows are made up of a single tube of sheet metal of a defined thickness, suitable for all applications having relatively small thermal movements and vibrations. Single ply bellows are specifically designed for low pressure, high spring rate applications (<50 PSIG at 1000 deg. F) where the single thin sheet metal is sufficient to withstand the design criteria. The fatigue cycle life of single ply bellows is low in comparison to multi-ply bellows of similar overall ply thickness due to its higher spring rate.
Bellows Systems Inc has experience in a range of material types in manufacturing bellows that includes both Ferrous Materials (304 SS, 321 SS, 304L SS, 347 SS, 310 SS, 316 SS, 316L SS) and Non-Ferrous Materials (Inconel 600, Inconel 601, Inconel 625, Incoloy 800, Incoloy 800H, Incoloy 825, Hasteloy C-276, Nickel 200, Monel 400)

Single-ply metal bellows used in BSI standard expansion joints are made in all possible lengths and pipe sizes from 1" in diameter all the way up to 96". All the Single Ply metal bellows manufactured in BSI are in accordance with the Expansion Joint Manufacturers Association (EJMA) guidelines .
With Bellows Systems Inc, making a custom single ply bellow is never a problem. Bellows systems has AWS B2.1 certified TIG Welders for custom bellows and AWS D17.1 certified GTAW weld operators for all aerospace bellows.
Let us consider 2 bellows of the same size (6" diameter in this case), one made up of a single ply of 0.020" thick Stainless Steel and another made up of 2 plys of 0.010" Stainless steel sheets (Grade 321), we see that the spring rate is around 3.8 times higher for the single ply material.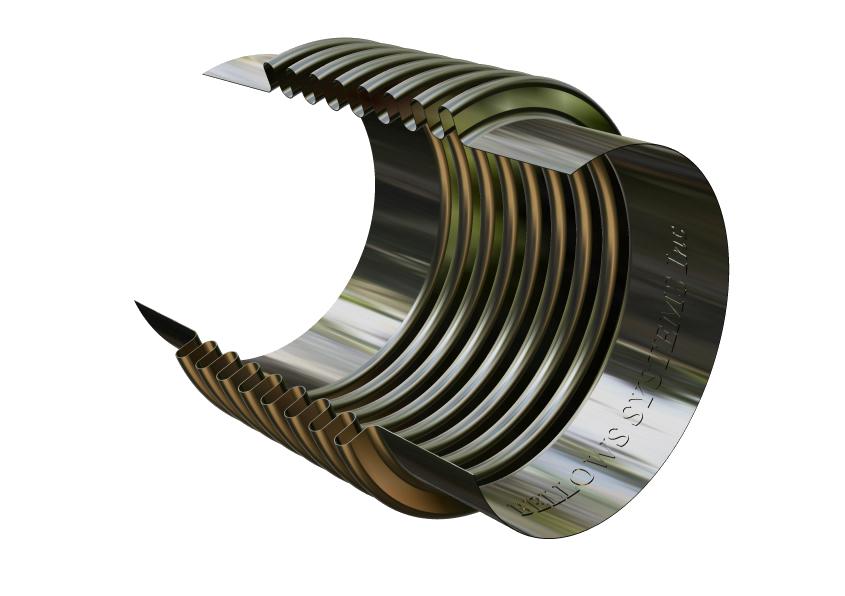 Single Ply Metal Bellow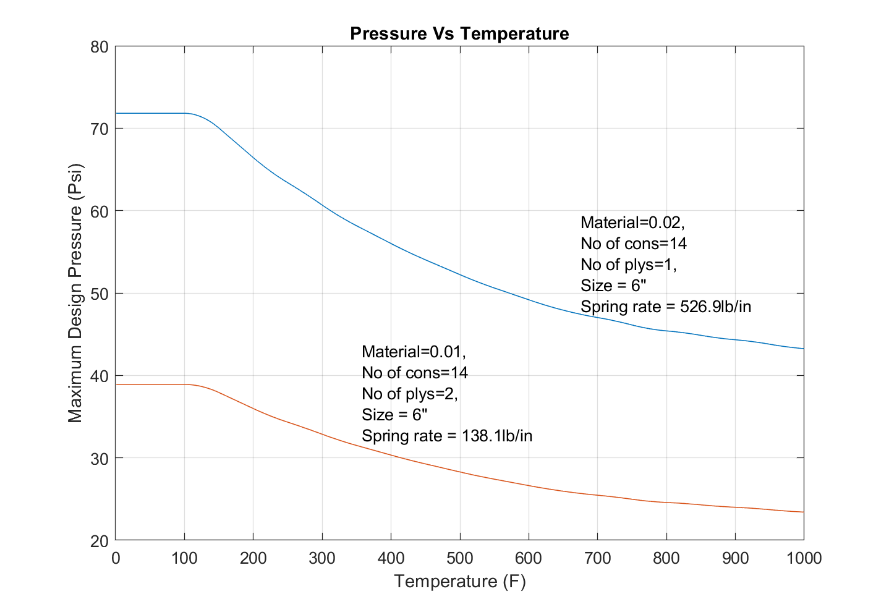 | Nom Pipe Size | BSI Part Number | Bellows OD | OAL | No. Of Cons | Material |
| --- | --- | --- | --- | --- | --- |
| 4 | 960-010-4545 | 5.3 | 4.5 | 8 | Stainless Steel |
| 18 | 960-002-1810 | 20.03 | 9.5 | 13 | Inconel |
| 20 | 960-002-2010 | 22.04 | 9.5 | 13 | Inconel |
| 6 | 960-010-6652 | 7.75 | 5.25 | 6 | Stainless Steel |
| 8 | 960-010-8676 | 10.1 | 12.5 | 14 | Stainless Steel |
| 10 | 960-011-1112 | 12.1 | 12.5 | 16 | Stainless Steel |
| 12 | 960-011-1312 | 14.45 | 12.5 | 12 | Stainless Steel |
| 4 | 960-112-0405 | 5.3 | 4.625 | 14 | Stainless Steel |
| 4.5 | 960-112-0512 | 6.12 | 12.25 | 20 | Stainless Steel |
| 6 | 960-112-0605 | 7.8 | 5.375 | 12 | Stainless Steel |
| 8 | 960-112-0808 | 10 | 7.625 | 16 | Stainless Steel |
| 10 | 960-112-1008 | 12.23 | 7.625 | 16 | Stainless Steel |
| 12 | 960-112-1208 | 14.25 | 7.625 | 12 | Stainless Steel |
| 14 | 960-112-1408 | 15.8 | 7.625 | 10 | Stainless Steel |
| 16 | 960-112-1608 | 17.8 | 7.625 | 10 | Stainless Steel |
| 18 | 960-112-1808 | 20.2 | 8.25 | 10 | Stainless Steel |
| 12 | 960-303-0811 | 14.25 | 7.625 | 12 | Stainless Steel |